Regular price
$1,195.00 NZD
Regular price
Sale price
$1,195.00 NZD
Unit price
per
Sale
Sold out
Availability: In Stock

View full details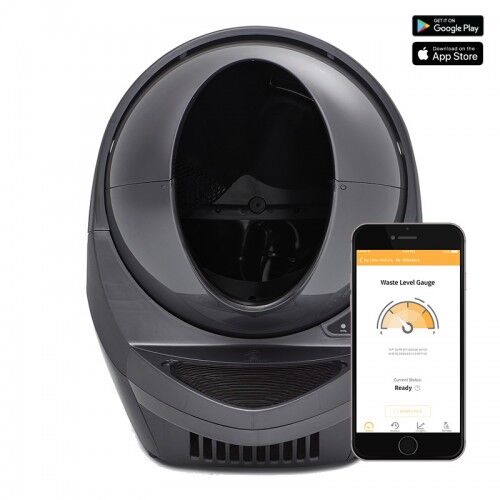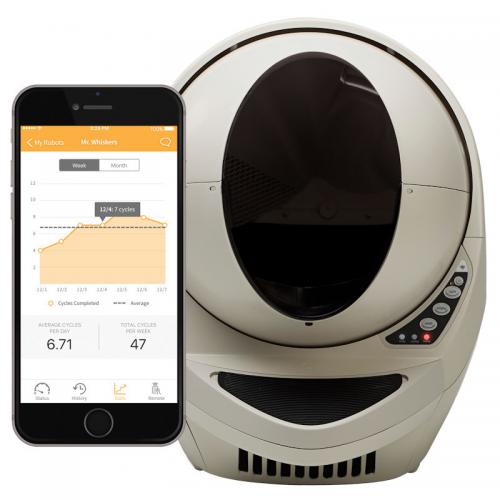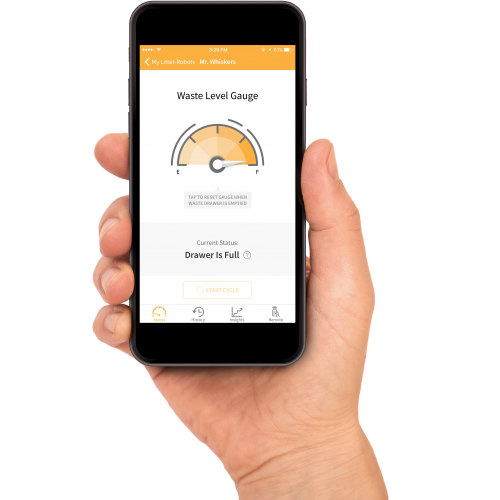 Litter-Robot™ III Open Air Connect is the highest-rated, WiFi-enabled, automatic, self-cleaning litter box for cats. Never scoop cat litter again while giving kitty a clean bed of litter for each use. Litter-Robot™ comes with a 90-day money-back guarantee + 18-month warranty.
Same Litter-Robot™—Now WiFi-Enabled
The Connect app gives you additional freedom from your litter box duties by allowing you to view the waste drawer level, get notifications, troubleshoot, and see usage history for insights into your cat's health. The app is compatible with Apple mobile devices with iOS 9.0 or greater and Android mobile devices 6.0 or greater. And as with any Litter-Robot, you never have to scoop again: After the cat exits, the patented sifting process automatically separates the waste from the litter and deposits the clumps into a waste drawer for easy disposal.
Benefits of Getting Connected
View the waste drawer level
Change settings remotely
Receive status notifications
Monitor litter box usage (individual cat information not available)
Control multiple Litter-Robot units
Benefits shared by customers

Remote monitoring if on holiday or working long hours
Monitoring if you have more than the recommended number of cats
Monitoring if you have cats prone to UTI or litter box related issues that show up in
number of visits/changed visitations (does not monitor individual cats)
History if needed for review without being home

Benefits of the Litter-Robot

Self-cleans after each use
Reduces litter box odour
Saves money on litter
No special accessories needed
Great for multiple cats of all sizes (max approx 12.5kg)
Safe for cats as light as 2.3kg
Extra spacious litter chamber
Enlarged entryway
Drawer full indicator blue light
vAdjustable cycle timer
Sleep mode & lock out feature

Additional insight from the Manufacturer is available at: www.whisker.com

Please also review the specifications and additional information on the Litter-Robot™ III Open Air, available on the product page for the standard (non-connect) Litter-Robot™, if more information is required, or email sales@catevolution.co.nz.

Important Delivery Note

The Connect APP is compatible with Apple mobile devices with IOS 10.0 or greater and Android devices 8.0 or greater. Apple App can be downloaded HERE and Android App can be downloaded HERE

The Automatic Litter-Robot™ III Open Air comes in a BIG BOX, and is delivered by Courier to your door, with signature required. You do need to make suitable arrangements for receiving the Litter-Robot™, so that you are not disappointed or delayed in receiving it asap. Please note Post Offices and Boxes are not able to deliver or receive this item. If you need help with planning safe arrival, please email sales@catevolution.co.nz as redeliveries do incur additional costs.

LITTER CHANGE TIP

As a tip, make sure you have your cats using suitable clay clumping litter in their manual system BEFORE introducing the Robot, as familiar litter will help them recognise the Robot is the new litter box, just a different shape, and will make transition faster and easier for all.

MANUALS
Sorted!
Thanks for your efficient response!
My partner Pete was free to drop the robot to the Auckland workshop which is great.
Sounds like she's already fixed it! Wow that's amazing.
Appreciate your help in navigating our way through this wee issue.
Once again thanks heaps. Wouldn't ever be without a litter robot as these are fantastic products!
Thanks again.
Fast and Fabulous!
Amazing customer service! Answered all my queries promptly, very professional, and knowledgeable! Got my litter robot the next day!
Just letting you know that my two cats Jingles and Louis have adapted quickly to the litter robot. Happy to say that their first night with it (without their old litter tray) was a success! No odour when I went down this morning! Quite glad I made the investment and switched over. Scoop away clumping litter works fine as well. Again, thank you so much for all your help.
Perhaps one of the biggest purchases I've made for my cats... but worth every cent! I only wish I'd bought this sooner. It is MASSIVE so definitely need to keep that in mind if you have a small space, but very cool looking and quiet when it's cleaning. It comfortably fits my two 6kg cats and following the instructions given, only took a few days for them to start using it and leave the old litter box behind. If you have multiple cats, or just don't like cleaning a regular litter box, this is a must have! I empty mine out once a week and the way it's designed with the bag at the bottom, it's as easy as opening the tray, tying up the bag, and chucking in the bin. Amazing!! :) I'm very happy and the shipping was insanely quick, too
We are LOVING the Litter Robot! Our two Burmese boys took about a day to trust it but we haven't looked back since. THANK YOU!I
Fully assembled 74.93cm H x 61.60cm W x 68.58cm D
Waste Drawer 12.7cm H x 31.75cm W x 40.64cm D
Oval Entry 39.37cm H x 26.04cm W
Litter Bed at Maximum Fill 35.56cm across
Inside Globe Widest Point 38-43cm H (depending on litter level) x 50.8cm W x 50.8cm D
Weight 10.89kg
Shipped 81.28cm H x 58.42cm W x 58.42cm D. 12.7kg
Whats in the Box?
Fully assembled Automatic Litter-Robot III Open Air globe, base and bonnet, easy to set up.
Plug in power 15 Volts AC adapter (Aust & NZ)
Carbon filter
Waste drawer liners (any regular extra large kitchen garbage bags can be used)
Instruction Manual
Return & Repack instructions
Open, plug in, and add litter for your cat to get to business
90 Day Money-Back Guarantee
Try the Automatic Litter-Robot III Open Air in your home for 90 days and experience what our satisfied customers already know, that the Automatic Litter-Robot III Open Air is the self-cleaning litter box that really works. You are protected by Cat Evolution's 90 Day Money-Back Guarantee. If you or your cats are not fully satisfied with the Automatic Litter-Robot III Open Air, for any reason, just return the Product within 90 days after receipt for a refund of the purchase price. Return shipping is at purchaser cost.
The 90 Day Money-Back Guarantee applies to the Litter-Robot only, not accessories. Please ensure you retain your original box, inserts, manual and quick reference guide. To be in good order and cleaned as per manufacturers information
18 Month Warranty
Cat Evolution provides an 18 month warranty against manufacturing faults. During the warranty period, Cat Evolution will repair or replace your Product in line with Cat Evolution Warranty.
Our goods come with guarantees that cannot be excluded under the New Zealand Consumer Law. You are entitled to a replacement or refund for a major failure and compensation for any other reasonably foreseeable loss or damage. You are also entitled to have the goods repaired or replaced if the goods fail to be of acceptable quality and the failure does not amount to a major failure.
Can you use a environmentally friendly litter? I don't want to use a clay or crystal litter due to the environmental impact.

You can use other litters in the  Litter-Robot but it has been designed for clay clumping litters. Plant based litters need to be smaller/finer grain particle as they are lighter and dont drop through the sieve as well. They also do not generally clump as well as clay, so they may release more odour (pee smell). Suggestions are Worlds Best (corn) clumping litter (red pack) and also Applaws crushed walnut shell. Most tofu and paper litters are not suitable as they are pellet size.  

Hello. I am keen to purchase this, but would like to know if you have any sales coming up or if you can discount the price? Many thanks

Thank you for your interest. The Litter-Robot 3 value bundle is the best value on the website, if you are looking for the additional accessories it contains. We do not have discounting or sales on the actual Litter-Robots, only bundling additional items together from time to time to provide as much value as possible, all the time.

could the unit sit on a deck outside undercover

If the area is suitable for an open litter tray with clumping clay litter in it, and has access to a power point, yes. Open Air is fine, not water as the appliance is electrical. Note extension cords can be used.

What if the litter robot breaks down after 18 months? Do you offer maintenance services? How to charge

One of the benefits for the LItter-Robot III is that it is designed to be self repairable, with plug and play, and about medium screw driver abillity. The parts are able to be purchased and self installed after warranty, if needed.
However, if you are not confident regarding self installation (videos are available to self assess) then we have a workshop in Auckland that can do repairs. Costs are  shipping (base only approx $65 return) plus usually 1 hour of workshop time (most repairs, $65/hr) plus parts. Current price provided and maybe subject to change over time.
We provide online and phone support both within and outside of warranty, and will pounce if emailed for assistance to help with diagnosis or repair needs. 
sales@catevolution.co.nz.
All warranty and customer support is provided in Australia and New Zealand by Cat Evolution with no need to contact the manufacturer, making help easy to access and responses as fast as possible to get you back into working order not scooping.

Just checking out the Big Box - what are the dimensions please?

We do have the dimensions on our website under product specifications to help, but ask if needed. 

BOXED 81.28cm H x 58.42cm W x 58.42cm D. 12.7kg

Can I connect the app to multiple Litter-Robot units?

Yes. You can onboard multiple WiFi-enabled Litter-Robot units to the same app.

Can everyone in the family use the app?

Yes. If others in your household want to use the app, they can simply download the app to their device and log in with the same account.

Is the Litter-Robot compatible with IFTTT and other third-party home automation systems?

Yes! You can connect your Litter-Robot to 650+ relevant smart home products using the free and easy platform IFTTT. Learn more here.

What if I already own a Litter-Robot 3? Can I upgrade my Litter-Robot?

Yes. You can make your Litter-Robot 3 compatible with the app by purchasing the Litter-Robot Connect Base or installing the Litter-Robot Connect Upgrade Kit. Contact sales@catevolution.com.au for more information if you cant see the items on the website under accessories.

Do you ship to PO Boxes?

No, we cannot ship the Litter-Robot  to PO Boxes, due to size. Other items ordered are usually shipped with Australia Post and can be delivered to PO Boxes.

I have travelled from my home and it seems my Litter Robot Connect has gone offline. It was working fine before I left and I have been told that it is still cycling as normal in my absence. Is there anything I can do to fix it from my end or do I need someone at home to do something? Although there are other people at home, they are not too familiar with the operation of the Litter Robot and I want to be getting the notifications for when it cycles or if there are any issues.

Ask someone at home to perform a power cycle. Review if app connected again. (successful!!) If not, check the following. Is the Litter-Robot is too far from the router and not in range of the wifi? A few items to consider: 1)If it's in the basement - customer may want to get a WiFi extender for the basement area 2)Brick walls will block the WiFi Signal 3)Sometimes the difference of the room door open or closed can also result in poor signal strength. Please note that even though the Litter-Robot says offline, it's still functioning, just not reporting to the App during this period. If needed, the following may also assist, if there has been an App update. While in the App, press log out. Delete the app from their phone. Power down phone. Power phone back up and download App with updates. Log in using the same email address and password.

Can more than one person in the house have the Litter-Robot Connected to their phone?

Anyone can log in
to the Litter-Robot with the same email and password (no onboarding required
once its been completed the first time). Download the App and login. Customers can only have 1
email/password login for each Litter-Robot. If you have more than 1 Litter-Robot in the home, you can add them to the same email and password (onboarding required for each Litter-Robot).

Why does my blue light flash on my Connect Litter-Robot when my tray is not full?

Please ensure that the bag is folded over and secured with the tabs
and is not "sticking up" anywhere. Please also ensure that there is no dust or debris on or inside the DFI
lens that could be tripping the laser. The lens is easy to clean with a dry ear bud, gently wiping any dust off the black lens that is located within the half circle cut out in the cover. The DFI is located within the base cavity, and can be accessed by removing the waste tray and looking up to the right inside the cavity. It is a green board, under a clear cover. It can also be seen and accessed more easily with the Robot dismantled for deep cleaning.



If that
does not solve the issue, please attempt recalibration of the
DFI. To recalibrate, first remove the waste drawer liner and any waste
and ensure the DFI Lens is clear of dust and debris. Then press and hold
"Reset" for about 6 seconds until the light blinks, when it does,
release the "Reset" button. This should recalibrate the DFI.

I have changed the bag and after watching the video have done it properly, but everytime the machine cycles the blue light flashes and the app tells me its full, I wouldn't say everytime it cycles but its 90% of the time. It didn't do it when the first bag was in but since its been changed. I've looked at how the bag is placed and its rolled down and tight as it can be around the edges. I keep resetting it each time it does it as its definitely not full. Any advice or comments would be great. ????

Please ensure that the bag is folded over and secured with the tabs and is not "sticking up" anywhere.     Please also ensure that there is no dust or debris on or inside the DFI lens that could be tripping the laser. The lens is easy to clean with a dry ear bud, gently wiping any dust off the black lens that is located within the half circle cut out in the cover. The DFI is located within the base cavity, and can be accessed by removing the waste tray and looking up to the right inside the cavity. It is a green board, under a clear cover with a half circle cut out. It can also be seen and accessed more easily with the Robot dismantled for deep cleaning. You can test by taking the tray out and pressing reset, and cycle, with a non-used litter bed so there is nothing to dump out. If you get litter scatter, vacuum before replacing the tray when finished. When finished cycle, if you have a solid blue light, then the issue is tray install, not DFI dust. If its still flashing, it will be dust. Please provide a photo of the lens, for review.   NOTE For a fast check on if the flashing blue light/full drawer notice is dust related, you can easy access the lens by taking out the waste drawer, and (using your phone torch or a real torch) locate the lens right side under top of base. Give the black part in the middle of the half circle cut out cover, a gentle but thorough wipe over with a cotton bud (dry) and see if that addresses the issue. No need to turn off the Robot to do this.   Press RESET to clear the flashing blue light when you have done the clean, then put in the waste drawer and press CYCLE to test.   If its solid blue when complete, it would appear dust is the issue.    If its still flashing blue, it maybe the tray or a fault.  Please get in touch at sales@catevolution.com.au

I am trying to ascertain how much noise it makes ? Is there anywhere I can see a demo?

The Robot makes the equivalent noise to a quiet dishwasher, when actually cycling, for approx 2 minutes. There is no noise when not cycling, as the motor is not turning. The Robot is in a number of semi-public locations around Australia, including some Cat Cafes, so if you advise your City, we maybe able to direct you to where you can see a Robot. There are also a lot of reviews on line, showing the Robot in action, which may help you with further assessing noise. There is also a sleep function, so that you can lock out the Robot for 8 hours per day, non-cycling, for light sleepers. The non-cycle period repeats at the same time daily, until you cancel it. The Litter-Robot is designed for indoor use, in small living spaces such as apartments. We have had ours in the lounge room and also in our bathroom opposite our kitchen, and both areas were and are not disruptive, as long as the space is available and a power point.

I own the connect version ive used around 3 different clumping litters for it but everytime the pee will clump and stick to the base of the robot and while it cycles it does not come off. Is there anything i can do about this? Im having to manually scrap it off and its not pleasant at all.

There is a huge variety in litters available. The key to good litter for the Robot is fast clumping, low dust, and if possible, carbon or activated charcoal for odour help. For setting, if you are getting muddy streaks and unset litter when cycling, you may need to change the wait time or clumping time to allow longer for your chosen litter to set. Press and hold the EMPTY button for 3-5 seconds until one of the lights starts to flash. Blue is 3 minutes, yellow 7 minutes, red 15 minutes. Change by pressing RESET to toggle through the colour until you have the one longer than current setting, if you need more time to clump up. Press and hold EMPTY button for 3-5 seconds to save (light stops flashing). If the issue is because your cats pee is going through the litter and pooling on the liner, without being absorbed by the litter, then you most likely need faster clumping/more absorbent litter. However, if you are living in a high humidity climate, then you may have setting issues due to the moisture in the air as well as your cats additions, and a mix with something courser to help keep some structure maybe needed. For an alternative to clay litter, Applaws crush walnut shell is used by some customers. If you have a light cat, the cat sensor may need adjustment (just ask).

Hi, just wondering if this unit will fit a very large cat? i.e. a Maine Coon Thanks!

The LR3 is actually larger by design, to fit Maine Coon and Ragdoll cats, as most automatic units are too small.    The dimensions are on the website under specifications.   • Fully assembled 74.93cm H x 61.60cm W x 68.58cm D • Waste Drawer 12.7cm H x 31.75cm W x 40.64cm D • Oval Entry 39.37cm H x 26.04cm W • Litter Bed at Maximum Fill 35.56cm across • Inside Globe Widest Point 38-43cm H (depending on litter level) x 50.8cm W x 50.8cm D • Weight 10.89kg • Shipped 81.28cm H x 58.42cm W x 58.42cm D. 12.7kg   Big cats enter, turn and have paws on the entry lip and heads out, in the Open Air.    As a tip, ensure you are using suitable clay clumping litter before introducing the Litter-Robot to make transition easier.

Hi. Do the cat robots have the correct Australian plug? Or do you have to use an adaptor? Thanks

yes, we have Australia compliant power plugs, not USA ones ;o) No adapter needed!

Do the robots come with AUS power plug? Thanks

Yes, we have Australia compliant power plugs, not USA ones ;o)

do you have a contact number where we can call

Apologies for not being able to pick up when you called earlier today, as I was cat napping (on Western Australia time currently when not in Tauranga).

 

Great to speak with you, and thank you for your order!

 

PS emails are excellent as I work cat hours including weekends, and may be cat napping, but will always reply or return call (if there is a number) meow!

 

Mary & Pixel

Sales & Customer Support

09 889 0983